Hello everyone and Happy New Year! Welcome to my site. I'm so happy that you've visited.
I'm a crossover singer who performs music across a wide spectrum of genres and styles, including the Great American Songbook, jazz, blues, musical theater, opera / classical and contemporary song.
As a professional vocalist, I perform in many types of settings and for a wide range of engagements. One week I may perform a cabaret show, another I may be on stage as an opera singer, and another week I may be the vocalist for a private social function. I do solo work and collaborate with a variety of musicians and groups, including with my dynamic combo, the Mary Carrick Collective.
I've had a particularly exciting past year with my debut album, Let's Fly having been released in 2014 and other wonderful projects currently taking place and on the horizon.
Read about my journey with the album on my blog and I'll continually post about other projects I'm working on.

All the best to you -
Mary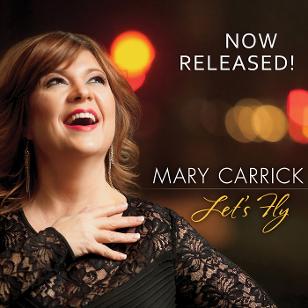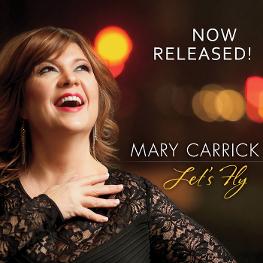 Sample Tracks - let's fly :
Come Rain or Come Shine - Sample.mp3
I'm So Lonesome I Could Cry _ In the Wee Small Hours of the Morning - Sample.mp3
Dance Me To The End Of Love - Sample.mp3
ORDER ONLINE:
CD Baby (CD and digital), Amazon.com (digital), and iTunes (digital)
OR, ORDER DIRECTLY THROUGH ME
Prefer PayPal? Use this option below and I'll ship it to you from my house to yours.

REVIEWS
"Carrick's voice is reiminiscent of great torch singers of the past...refreshing for its lyrical clarity..."- Piers Ford, The Art of the Torch Singer
____________________
"...absolute command of the stage and of the audience..." - Marcy Brandt, Minden Opera House
____________________
"Mary had the audience at the Red Cloud Opera House capitvated from the minute she hit her first note...impeccable performance." - Kara Faber, Red Cloud Opera House
____________________
"The best cabaret show this reviewer has seen in a long, long time....a warm, moving and wildly entertaining evening." - Bob Fischbach, staff writer, Omaha World-Herald
UPCOMING ENGAGEMENTS:
OPERA OUTDOORS

Opera Omaha at Turner Park
September 11, 2015 at 7:30 p.m.
OPERA OMAHA IN BROWNVILLE, NE

September 13, 2015 at 2 p.m. & 7 p.m.
LA VOIX HUMAINE (THE HUMAN VOICE)
as "Elle"

Opera Omaha - October 28 & 29
Directed by James de Blasis
Music Direction by J. Gawf
Details to be announced

connect with me ON SOCIAL MEDIA!

join my mailing list!
Contact me to be added to my mailing list to receive updates on the release of Let's Fly and upcoming performances. Or complete this online form.