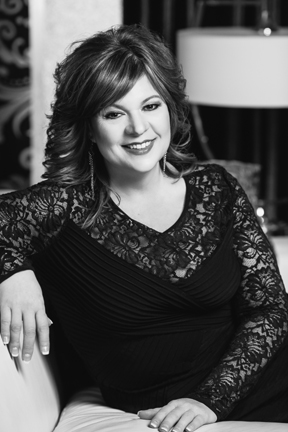 Mary Carrick is a Midwest-based cabaret & concert singer and recording artist who has been performing professionally for over 25 years and singing for as long as she can remember.
She grew up in a small, southeast Iowa community, where her musical parents owned and operated a restaurant. As a young girl, she remembers live combos playing in the restaurant lounge, customers feeding the juke box, and the sounds of rollicking piano in the house.
Today, she's a multi-faceted, dynamic performer who is equally at home with cabaret, musical theater, opera, jazz, art song, contemporary musical styles and as a stage actor. She's known for her lush and shimmering vocals, her theatrical prowess and for her unique ability to truthfully interpret a song, connect with audiences and command the stage. She's a fearless singer who can deliver a lyric and melody with warmth and sensitivity as well as turn a song on its heels.
Her influences span many musical spectrums, including jazz greats, opera divas, Broadway legends and contemporary stylists. She finds joy in putting her personal spin on standards and uncovering obscure tunes and great songs from emerging composers.
Mary maintains an active performance schedule as a concert singer and cabaret singer with arts organizations, arts councils, cabaret venues and theaters across the Midwest, and is in demand for special events. She made her Chicago cabaret debut at the city's iconic cabaret venue, Davenports, in 2012 with her show ON MY WAY. She released her debut album Let's Fly in 2014, featuring a collection of reimagined classic and contemporary songs spanning great American standards, familiar and unfamiliar musical theater, jazz, folk and country with inspired arrangements and fresh takes on classics.
Mary has performed with Opera Omaha, the Omaha Symphony, Omaha Community Playhouse, and with many other theaters and venues. She's received numerous awards and award nominations for her work, including the 2013 Omaha Entertainment & Arts Award for her role as "Sour Kangaroo" in the Rose Theater's production of SEUSSICAL: THE MUSICAL. She also received critical acclaim and multiple award nominations for her performance at the Rose as "Mother Abbess" in THE SOUND OF MUSIC. Other awards include the Outstanding Cabaret Award from the Omaha Theatre Arts Guild in 2008. She is also the recipient of Theatre Arts Guild Awards for Outstanding Lead Actress (2007) for her role as "Jessie" in 'NIGHT, MOTHER and Outstanding Featured Actress (2003) for her role as "Joan" in THE MARRIAGE OF BETTE & BOO.
Mary is a Touring Artist with the Nebraska Arts Council. In addition, she is an arts educator and often holds residencies with area students in the communities where she performs.