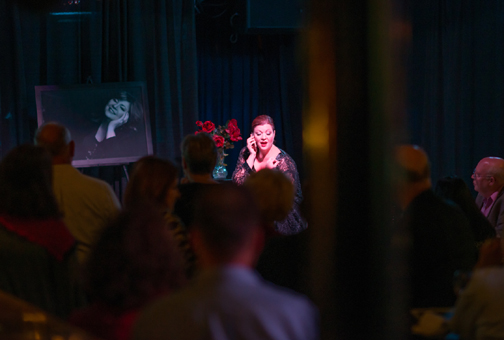 "Beautifully and gut-wrenchingly performed...wow." (The Human Voice) - Nevada Jones, composer
_______________________________________________________
"Carrick's voice is reminiscent of great torch singers from the past...elegant and molten - and all the more refreshing for its lyrical clarity in an age when diction in singing doesn't always seem to be a priority. It takes a singer with Carrick's vision and a passion for story-telling to weave songs like this into compelling and unexpected combinations. And she succeeds with the help of a fine band – three of whom, pianists J.Gawf, Todd Brooks and Eric Andries, also take credit for the pristine arrangements." - Piers Ford, The Art of the Torch Singer (review of Let's Fly)
_______________________________________________________
"Ms. Carrick, with both cabaret and theater in her background, has the power to hit the balcony, but I think it's the more introspective tracks that really shows her fine interpretive skill....Getting the adds to the current playlist at 62ndStreet.com are "In A Restaurant By The Sea," a delicate wisp of a song that Ms. Carrick caresses beautifully; and an unlikely medley of Hank Williams' "I'm So Lonesome I Could Cry," paired with 1955′s "In The Wee Small Hours Of The Morning." This disc is highly recommended." - Doug Boynton, Girl Singers (review of Let's Fly)
_______________________________________________________
"The best cabaret show this reviewer has seen in a long, long time. It's hard to decide what's more entertaining: Carrick's glorious mezzo voice or her amusing patter between impeccably chosen Broadway songs. Her playlist mixes standards and obscure gems into a warm, moving and wildly entertaining evening." - Bob Fischbach, staff writer, Omaha World-Herald
________________________________________________________
"Mary had the audience at the Red Cloud Opera House captivated from the minute she hit her first note. Her impeccable performance left audience members wanting to hear more and riveted to their seats. A consummate professional, Mary is a true pleasure to work with and we look forward to having her grace our venue's stage again in the near future." - Kara Faber, Program and Development Coordinator, Red Cloud Opera House
More Reviews
PIERS FORD (THE ART OF THE TORCH SINGER, www.cry-me-a-torch-song.com): "You don't hear too many voices like Mary Carrick's in popular music these days, beyond the boundaries of operetta or traditional musical theatre. Her clear, mellifluous soprano might not quite have the resonance of, say, Audra McDonald's, but it is pleasingly elegant and molten – and all the more refreshing for its lyrical clarity in an age when diction in singing doesn't always seem to be a priority. In her technique, Carrick harks back to the intimate, low-key drama of the great Helen Morgan and her sister torch singers of the 1920s and 1930s. At first glance, Let's Fly looks like another album of standards. And in a crowded market, your instinctive response is to ask, what's different about this one? The answer lies in Carrick's clever song choices. The old-school standards – "Come Rain or Come Shine", a mash-up of "I'm So Lonesome I Could Cry" and "In the Wee Small Hours of the Morning", and Cole Porter's "So in Love" are deftly handled to be sure, but they are mainly the cornerstones of a record which celebrates more contemporary song-writing talents. And the contrast is fascinating. The album opens with the delicious fatalism of Leonard Cohen's "Dance Me to the End of Time", and takes in Jason Robert Brown ("Stars and the Moon") and Stephen Schwartz (the sublime "Meadowlark") – all holding their own alongside the masters of the American songbook. Carrick really nails her singing colours to the mast at the heart of the set with two numbers. The first, an impassioned take on Joni Mitchell's "Both Sides Now" confirms that wistful ballad as one of the great pop songs of the 20th century. The second, a sizzling interpretation of Barry Manilow's "Man Wanted", is a reminder that he, too, is one of the finest songwriters of our time. The final number, an echoing, sweeping version of Craig Carnelia's "Flight" is a moving and inspirational note on which to end. It takes a singer with Carrick's vision and a passion for story-telling to weave songs like this into compelling and unexpected combinations. And she succeeds with the help of a fine band – three of whom, pianists J.Gawf, Todd Brooks and Eric Andries, also take credit for the pristine arrangements"
KEN SIDEY (EXECUTIVE DIRECTOR, WARREN CULTURAL CENTER - GREENFIELD, IA): "What a thoroughly enjoyable evening! Our audience loved the marvelous musical talent and engaging personalities of Mary Carrick and Todd Brooks. They provided a fun, entertaining show that ended too soon."
MARCY BRANDT (EXECUTIVE DIRECTOR, MINDEN OPERA HOUSE -MINDEN, NE): "Between their outstanding musicianship and entertaining rapport, Carrick and Brooks take absolute command of the stage and of the audience. During the comedic numbers, they have the audience rolling in the aisles, and in the more tender moments, you'll see more than one patron dabbing at their eyes. Our office continued to receive compliments for several days following the show. And as if her performance abilities weren't enough, Mary Carrick went out of her way to make promoting and selling the show as easy as possible. Not only are these two consummate professionals and excellent performers – they are genuinely nice people who make the entire process an absolute delight."
BOB FISCHBACH(STAFF WRITER, OMAHA WORLD-HERALD): As the Reverend Mother, Mary Carrick caps the first act with a sumptuous version of "Climb Every Mountain" that is vocal perfection, and her acting equals that as she mentors the troubled Maria."
MARY KROWLOW (BART HOWARD ROOM): "Carrick and Brooks are real show people. Their performance at the Bart Howard Room was a blend of song and theatre - cabaret at it's best. Both nights were sold out in advance but word of mouth from the first night had people begging for tickets the next day - a real testament to the duo's talent and ability to craft an exquisite show. We will definitely want a return appearance."
PAUL HOSFORD (CO-DIRECTOR, ALBION ARTS COUNCIL): Mary Carrick and Todd Brooks' artistry, versatility, adaptability, and passion for performing equal that of the very best performers to have graced our stage. Mary and Todd clearly love what they do and they do it very well. In addition to being professional and easy to work with, both are consummate performers, able to tastefully interpret a wide range of challenging material. And the audience loved them with many members singing along quietly to their songs. Besides performing their cabaret, Mary and Todd also did an educational school residency here in Albion. Their talent for performing is matched by their talent for working with students. They presented a well-planned program that not only helped the students develop a stronger appreciation of the role of art in their lives, they provided several opportunities for the students to participate in the songs in a variety of ways. We'll definitely present them again!
SUSAN ROTHHOLZ (PROGRAM CHAIR, MAINSTREETERS): "Mary Carrick and Todd Brooks performed their sensational revue for our opening luncheon. They were a tremendous hit and all were thrilled by their glorious voices and charming repartee. Huge talents!"
BOB FISCHBACH (OMAHA WORLD-HERALD): "Mary Carrick's stellar character turn as Mrs. Murphy also snags laughs as the high-strung cook sneezes, flirts, freaks over a mouse and turns apoplectic over the sight of flying carpets."
BOB FISCHBACH (OMAHA WORLD-HERALD): "Mary Carrick's "Bless This Day" was priceless."
STEVE ESKEW (THE READER): "Carrick's singing voice can't be beat."
WARREN FRANCKE (THE READER): "Her solo show promises everything from Spamalot to The King and I to Gershwin's Porgy and Bess. If she sings "Summertime", that alone would be worth the admission."
DAVID WILLIAMS (OMAHA CITY WEEKLY): "Lone microphone...check. Lone piano...check. Lone chanteuse...check. Feathered boa...optional. That's it. Nothing more. The minimal requirements for great cabaret are all accounted for, but there will be nothing that could be described as anything even close to minimal when the spotlight finds Mary Carrick in her one-woman show, "Some People" at Omaha On Stage..."
DAVID WILLIAMS (OMAHA CITY WEEKLY): "Mary Carrick brings down the house in "Pay Them No Mind", a tender and touching love ballad."
WARREN FRANCKE (COUNCIL BLUFFS DAILY NONPAREIL): "I Whistle A Happy Tune," "Getting to Know You," and "Shall We Dance" might be better known songs, but Carrick's operatic rendition of "Something Wonderful" was the vocal highlight of the evening."
BOB FISCHBACH (OMAHA WORLD-HERALD): "Mary Carrick, as the crown prince's mother, displays regal stage presence and lush vocals on "Something Wonderful."
© Copyright 2023 Mary Carrick | All Rights Reserved | Additional material copyrighted by its respective owners