ELECTRONIC PRESS KIT
Welcome to my Electronic Press Kit (EPK) page with materials related to myself as a vocalist, cabaret singer and concert singer along with my album, Let's Fly. Here you'll find my Bio, One Sheet, press releases, sound clips, promotional images, and more. Should you have any questions, would like to request material not found here, or would like to speak with me, please contact me via email or phone.
Hard copies of Mary Carrick's Press Kit, One Sheet and other materials are available upon request.
ONE SHEET & BIO (SOLOIST & COLLABORATIVE VOCALIST):
ALBUM ONE SHEET - LET'S FLY

THE MARY CARRICK COLLECTIVE - ONE SHEET & BIOS:
professional highlights:

Touring throughout the Midwest
Performed the lead rolein the one-woman opera The Human Voice (La Voix Humaine) as "Elle" with Opera Omaha, October 2015
Let's Fly, released 2014; available on Amazon, iTunes, CD Baby (CD & digital), marycarrick.com (CD)
Artist Roster, Nebraska Arts Council
Member, Chicago Cabaret Professionals
Guest Artist, Holiday Lights Festival - Holland Performing Arts Center
Performed in Rigoletto (as "Giovanna") with Opera Omaha, October 2014
Omaha Entertainment & Arts Award, 2013
Performed at/with Holland Performing Arts Center, Opera Omaha, Omaha Symphony, Rose Theater (Omaha, NE); Davenport's (Chicago, IL)
Participant in Midwest Cabaret Conference (Chicago, IL); and Song Interpretation Workshop with Tony Award-winning singer & actress, Betty Buckley (New York, NY & Chicago, IL)
PHOTOS (HIGH RESOLUTION - FOR PRINT):
PHOTOS (LOW RESOLUTION -FOR WEB):
Mary Carrick is a professional cabaret singer, concert singer, and recording artist. Her debut album, Let's Fly, was released in May 2014. Produced in conjunction with J. Gawf, the album features reimagined classics from the American Songbook, cabaret, country, folk, and more. Mary Carrick is active as a cabaret singer, actress, and special event vocalist in Omaha, Nebraska, where she is based, and throughout the Midwest. She is a touring artist with the Nebraska Arts Council (Nebraska Touring Program) and an arts educator. Mary is the recipient of the 2013 Omaha Entertainment & Arts Award (OEA) as Best Supporting Actress – Musical as well as the Theatre Arts Guild Award for Outstanding Cabaret (2008), Outstanding Lead Actress (2007), and Outstanding Featured Actress (2003).
© Copyright 2014 Mary Carrick | All Rights Reserved | Additional material copyrighted by its respective owners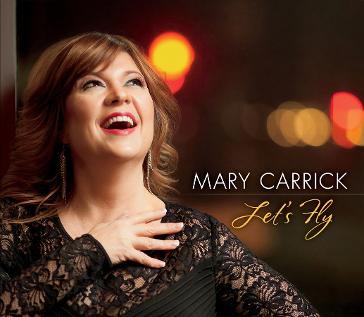 ALBUM RELEASE DATE: May 13, 2014
Genre: Standards, Easy Listening, Musical Theatre, Jazz
media - video & audio
Audio: Visit my Media page for audio samples and other audio files.
Streaming audio is also available via SoundCloud. Please request the unique URLs to access these files.
Video: Please visit my YouTube Channel where you'll find several videos to give you and idea of what it is that I do as a professional vocalist and cabaret singer. It's just a representation of the many styles of music that I sing, but it's a taste. I hope you enjoy!
SCHEDULE:
View my upcoming schedule and previous engagements.
NEWS & PRESS:
- Omaha World-Herald feature story (May 15, 2014)
- The Old Market Encounter (July/August, 2014)
- Nebraska Cultural Endowment, "What's Your Livelihood" feature (June 23, 2014)
- Les Femmes Folles: Women Art (blog), by Sally Deskins, May 12, 2014
-P.E.O. Record - feature story, "Born to Sing", May/June 2014
- Various radio appearances
- Featured as a Pick of the Week (8 Days) in The Reader, Omaha NE, May 16, 2014.
- Guest on Friday Live Arts Magazine on NET Radio, Nebraska's NPR station. Hosted by Genevieve Randall. (Live broadcast: May 16, 2014, 9 a.m. CST)